There are many different tools that can be used for SEO tracking it's hard to keep count of them. Each one has its own look, feel and features that make it stand out from the next.

When looking for SEO tracking tools to use for your business, it really comes down to preference.

Here at THiNKTANK, our SEO marketing agency uses 5 different tools to track not only our own SEO efforts but our clients as well.

5 SEO Tracking Tools Used by Our Team
Google Analytics: Everyone who has a website should be set up with Google Analytics. It allows SEO specialists to track and understand your audience, their behaviors, where your acquisitions are coming from and your conversations. 
SEMrush: SEMrush is an SEO tool that allows you to conduct keyword research, understand your competitor's keyword strategy, run audits on your website and more.
MOZ: Like SEMrush, MOZ has the function to conduct keyword research, SEO audits, look for backlinking opportunities and more.
SEOquake: SEOquake provides you with key metrics about your webpages. It's a browser tool that is helpful when it comes to conducting SEO audits.
WooRank: Woorank is another great SEO audit tool. It provides you with an instant website review that shows issues and opportunities while also tracking keywords and allowing you to create reports. 
Each of the tools we use has certain features we like which allows us to do the best job for our clients.

This is why we don't just use one tool for a certain task.

Utilizing multiple tools allows us to gather different data to compare so that we can pull the most accurate results possible and create a strategy to enhance our client's SEM (search engine marketing) efforts.

In the next section, we'll tell you why we like each of these tools, what we use them for and let you know the prices.

By the end, we hope that you find an SEO tool that fits your budget and works for you.

Why We Like Google Analytics for SEO Tracking
Google Analytics has great features for SEO tracking. It is a necessity for anyone who has a website and wants to track all the analytics on the traffic it's getting. 

The great thing about it is that it can be integrated into any website you to use any website design platform you'd like.

What We Use it for
Google Analytics allows us to track a great amount of data from how users are interacting with a client's website to where their conversations are coming from. We can see how many users visited their website in a day and track their behaviors while there.

We can see how long they stayed on a page (average session duration) and how many pages a user interacts with during a session (pages/session).


Another reason we like to utilize this tool is to set up goals in Google Analytics. Setting goals allows us to track certain actions on a client's website.

For example, we can set a goal to track how many users fill out a contact form on a website.
If you want to learn how to set up goals for your website, check out our article on setting up goals in Google Analytics.

How much is Google Analytics?
The best thing about this tool is that it's free! The only time you have to pay is if your website gets more than 5 million impressions per month.
If you haven't set up a Google Analytics account, you should do so now or contact us and we'd be more than happy to help!

Why We Like SEMrush for Tracking SEO
SEMrush is a great tool for all things that are important to search engine optimization.

The main dashboard allows us to see a domains organic traffic, paid traffic, backlinks and the organic keywords it's ranking for.

What we use it for
The main reason we use SEMrush is to figure out which keywords will attract the highest organic traffic to a client's site.

SEMrush allows us to see what position our clients rank for a specific keyword, how much search volume it gets and the amount of traffic coming from it.


Another feature we utilize in this SEO tool is its project function. The project function allows us to have all our clients in one place and track all their data individually.

Here, we can run site audits, track the position of certain pages and even get some on-page SEO tips. This feature allows our team to stay organized and run reports for all our clients.

How much is SEMrush?
Depending on what you are looking to get out of SEMrush, there a different price points. 

The very basic version which allows you to see the main dashboard is free, but to get more benefits out of the tool, we recommend purchasing one of their paid plans.
The plans range from $99-$399 and each is specifically designed for certain types of business.

For example, the $99 plan is more for freelancers, startups and in house marketers with a slim budget, while the $399 plan is more for agencies and businesses with a bigger budget.

Don't worry, there is also an in-between plan if you feel you are in the middle.

However, if you'd rather someone else take care of this, we know the ins and outs already and will be more than happy to help with your SEO tracking needs!

Why We Like Moz as an SEO Tracking Tool
Moz is another tool that is similar to SEMrush. The cool thing about MOZ is that it has an extension for your web browser allowing you to get all the information you need about a page without leaving it.

What we use it for
The web browser extension is how we utilize Moz. The extension allows us to check the domain authority of a page and examine its on-page elements. We can examine the pages URL, meta description, H-tags, and alt texts.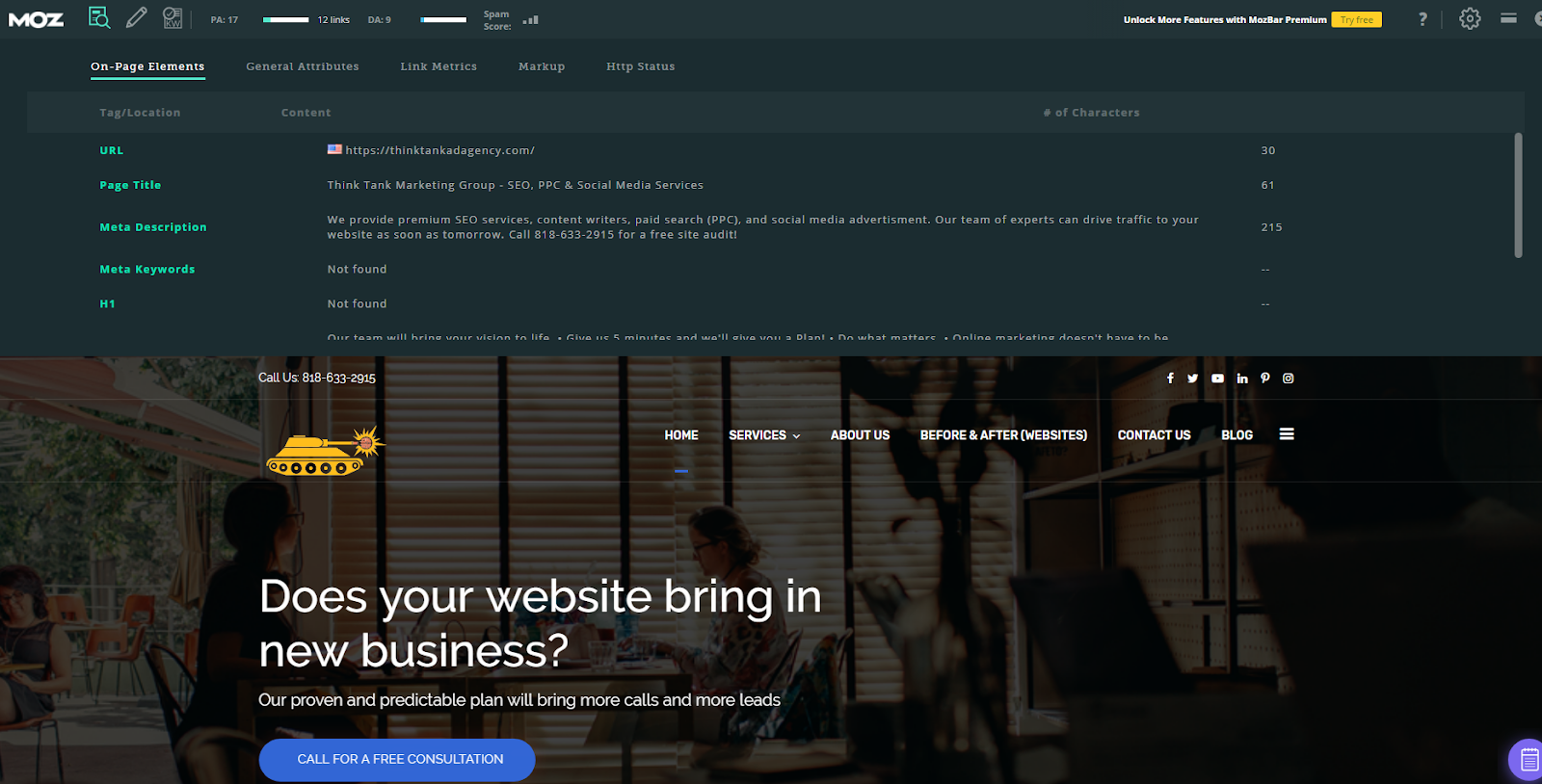 We can also see other elements like how many links are on a page, the page load time and markups the page may have.

Now, we just utilize the free version of the MozBar extension, but with the paid plans, you get a lot more features.

How much is Moz?
Moz has 4 different price points depending on what suits you and your business. Each plan includes the premium version of the MozBar, keyword tracking across multiple search engines, SEO insights, a 1-on-1 walkthrough, and 24hr online support.

Their pricing ranges from $99-$599 a month with no strings attached, or you can do a yearly payment plan and save 20%.

Why We Like SEOquake
SEOquake is a browser extension made by those who developed SEMrush. This allows you to integrate the two tools together.

This is similar to the MozBar but gives you more information for free.

What we use it for
We use this tool to analyze organic research data very conveniently.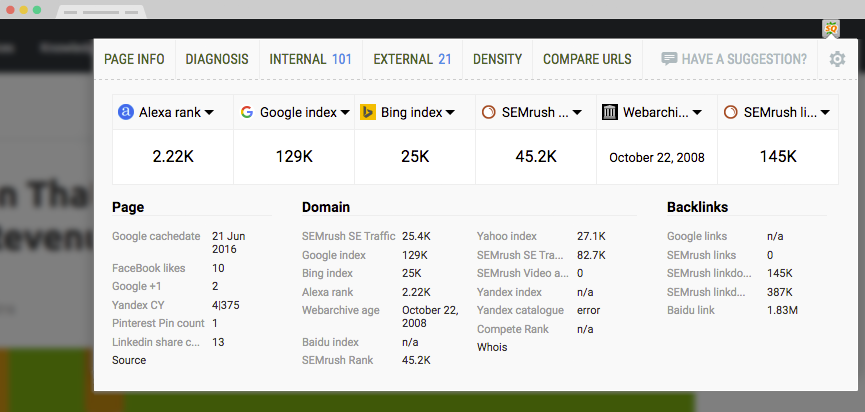 With this extension, we are able to analyze backlinks, if there are any display ads about the site, pull reports on website traffic and even do a full SEO page audit.

In the page audit, we can quickly examine its meta description, title tag, external and internal links.

We can also see what needs to be fixed on that page, anything that may need a second look and everything that is looking good.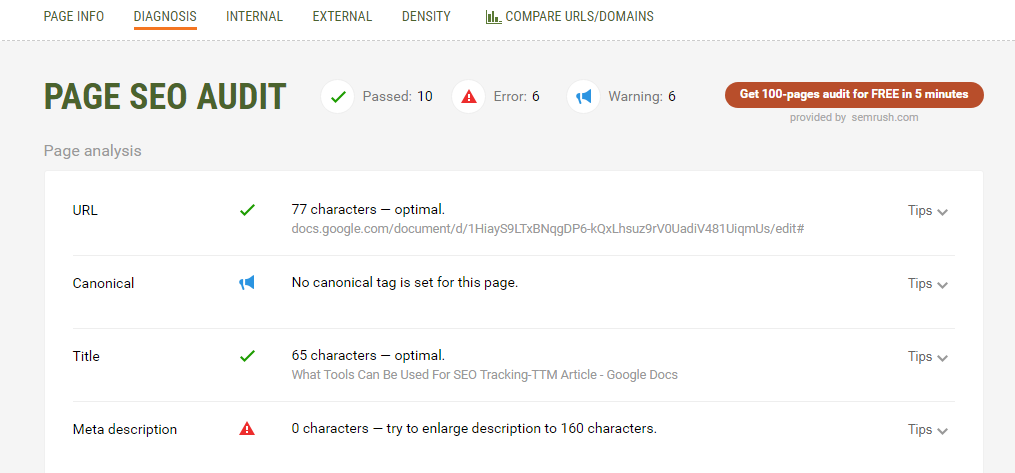 How much is SEOquake?
The only reason you may want to go with this tool over Moz is that it's free.

But as a reminder, we like to use multiple tools that put similar data to make sure we are as accurate as possible.

If you're not too sure what to look for when doing an SEO audit don't worry, we can do one for you for free, give you recommendations and get you on your way with a plan.

Why We Like WooRank
Similar to SEOquake, WooRank allows us to instantly do an SEO check of clients websites. It's quick, has a browser extension and the free version pulls all the data we need.

What we use it for
We use WooRank as another SEO audit tool. The browser extension pulls SEO data and lets us examine what is good, what needs improvement and where there are errors.

WooRank gives you a score on a scale of 100. This score represents your internet marketing effectiveness in real-time.

The information that WooRank provides let's us examine a client's website and see what aspects need to be improved so that their marketing efforts are at its highest potential.

How much does WooRank cost?
Just like the other tools, WooRank offers different pricing options depending on your needs. They're software ranges from $60-$250 a month.

As for us, we use the free browser extension along with the 4 other tools mentioned above. Combined, we are able to obtain all the data we need to provide our clients with the best SEO services.

Other SEO Tracking Tools We Recommend
The five tools mentioned above are the tools we like to use when working with clients. There are so many SEO tracking tools out there, and choosing the right one comes down to your business needs and wants.

If you aren't too impressed by the ones we talked about, here are three more SEO tools you could use:
Ahrefs is a fully stocked SEO tool that allows you to run audits on your websites, do competitor analysis, research keywords and backlinks all in one convenient location. Starting at $99 a month, you can begin your SEO exploration.
KWFinder allows you to do traditional and competitor keyword research to find the right keywords to start ranking for. Starting at $30 a month, you can look up 100 keywords a day, track up to 200 in a day, and if you decide to go with a bigger plan, you can get unlimited competitor keywords!
Screaming Frog is an SEO spider tool that crawls websites and gathers key information to analyze. It also allows you to run a technical and onsite SEO audit. For one license, you can have 20 or more, it costs around $170.
These tools are great additional or alternatives to the ones mentioned throughout this post. Again, choosing the best one that fits your needs is completely up to your preference.

We suggest taking advantage of all the free trials these companies offer so you can play around with the tools and see how each compare to the other for yourself.

Get Your Free Website Evaluation
If you're still unsure about which SEO tool to use and would rather have someone else take care of your SEO needs, then check out our professional SEO Services. We will do a free SEO site audit for you to show you the places we would improve to help you skyrocket in the SERP (search engine results pages)!

Also, if you use SEO tools other then the ones mentioned, feel free to comment below and share them with use. We love new ideas!